Me and Earl and the Dying Girl – Movie Review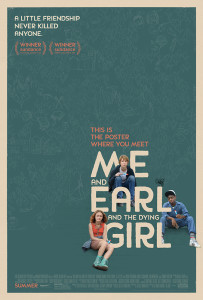 Me and Earl and the Dying Girl – PG-13
Release Date: Fri 12 Jun 2015
High school senior Greg (Thomas Mann) and his friend Earl (RJ Cyler) remake their favorite movies as silly parodies. Greg's mother convinces him to spend time with Rachel (Olivia Cooke) who has been diagnosed with leukemia.
The movie is both a comedy and a drama and subverts many expectations. It is not a teen romance, nor does it follow an overly cliched storyline. All of the characters, including those in smaller roles feel real and rounded. This is due to a combination of great writing and casting including Molly Shannon as Rachel's mom, Nick Offerman and Connie Britton as Greg's parents and John Bernthal as a history teacher.
The directing and cinematography are also well done. The camera moves in interesting ways and many scenes (especially the final few) are quite beautiful. Greg and Earl's love of film has some very entertaining consequences as they re-create their favorite movies. I was pleasantly surprised on how much time was spent setting up a brief but funny Werner Herzog impression.
Without spoiling anything I can say that the movie is appropriately titled in terms of having an air of sadness (bring tissues), but it is also moving and very funny throughout. I highly recommend seeing it with as little additional information as possible.
Amber, Aaron and I saw it in the theater and had a discussion in the car: