American Sniper – Movie Review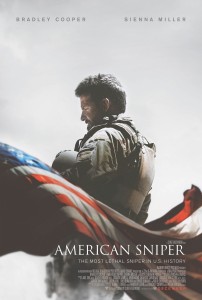 American Sniper – R
Release Date: Fri 16 Jan 2015
Director Clint Eastwood brings us this adaptation of the book about and co-written by Navy SEAL sniper Chris Kyle. It's a deep look into the life of a man who joined the SEAL program late in life and became probably the deadliest sniper in US history. It's also a story of the effects of war – the loss of life, limb as well as post-traumatic stress.
The direction, editing and pacing are extremely good. We never spend more time in a situation or exploring a subject than is warranted. There is a lot of ground to cover, and Eastwood seems to wring every chapter out of the story that he can while never using an over-reliance on flashbacks or voice-overs.
Bradley Cooper gives an excellent performance as Kyle. He gained a lot of bulk for the role and it makes him stand out even more next to the much younger soldiers he is fighting alongside. The change his character goes through from his early life as a rodeo competitor to his demeanor and inner demons by the end are staggering. It's a very effective film at illustrating the never-ending need for help veterans face.
As this is an R-rated movie with modern warfare, I will give a word of warning to those who may have trouble with scenes of child endangerment or people who have been in combat. I found the use of violence effective, but it is certainly unsettling. If you think you can handle that, I strongly recommend putting this on your list to watch.
Aaron and I saw it in the theater and had a discussion in the car: