Blackhat – Movie Review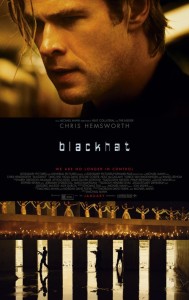 Blackhat – R
Release Date: Fri 16 Jan 2015
Blackhat is a modern, cyber-crime thriller from director Michael Mann. Chris Hemsworth stars as Nicholas Hathaway, an incarcerated hacker who may be the world's best chance of catching another hacker whose motives are unclear. The damages are, beginning with a deadly sabotage at a nuclear facility in Taiwan. If Hathaway can bring the malevolent hacker to justice, he can commute the remainder of his stiff sentence.
Mann is in his element building intrigue around slowly developing the characters into likable (if somewhat roguish) people mixing in great action sequences along the way. There are gun battles and conversations alike that glow with a neon intensity. Some viewers may be put off by the slower, character moments but this isn't new territory for Mann films. We get to see the characters in relaxed states as well as fighting for their lives. It gives us a well-rounded picture.
Chris Hemsworth gives a nuanced performance that is different from any other that seen from him. Hathaway is not as charming as Thor, nor does he jump into the stereotypical condescending hacker stereotype. Leehom Wang and Wei Tang are solid as a brother and sister tasked with finding the hacker by the Chinese government, and Viola Davis seems to be having fun as their FBI liaison.
Blackhat is about as good a cyber-crime-based thriller as you can ask for in 2014, with an increasingly computer-literate public that is cynical when presented with far-fetched or eyeball-rollingly lame tech. While there are a few bits that don't add up or are technically silly (autorun.inf?) they're harmless enough that you don't need to completely check your brain at the door.
Aaron, Cal and I saw it in the theater and had a discussion in the car: