Cake – Movie Review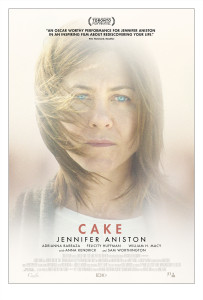 Cake – R
Release Date: Fri 23 Jan 2015
Cake is the story of Claire (Jennifer Anniston) dealing with the after effects of a physically and emotionally scarring event. She suffers from chronic pain, and begins to look into the suicide of a girl in her support group named Nina (Anna Kendrick.) She is looked after by her housekeeper, the long-suffering Silvana (Adriana Barraza) and ends up meeting Nina's husband Roy (Sam Worthington) and his young son.
Anniston's performance was the subject of a campaign to try and get her a best actress nomination. She is excellent in the role of Claire, but it is mostly how different the role is from her usual ones that makes it stand out. You can see the physical pain Claire is in. She walks as if with severe arthritis and rides in cars fully reclined as horizontal as possible. While I expected her to have more emotional trauma – breaking down in tears, getting upset – she instead is very detached until the third act when she starts trying to get through her days without the help of pain medication.
While I enjoyed the story and the performances, Cake isn't the easiest movie to recommend. For people who have dealt with similar tragedies including the death of a child, it may be too hard to watch. Los Angeles is shot with a dreamlike quality that can be confusing as several dream sequences or fantasies are included as well. It may take another viewing for me to fully comprehend everything about the film, but my desire for doing so is high enough that I can recommend it if you want something with emotional weight.
Amber, Aaron and I saw it in the theater and had a discussion in the car: