The Loft – Movie Review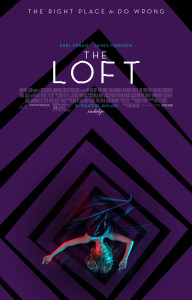 The Loft – R
Release Date: Fri 30 Jan 2015
The Loft is a mystery thriller directed by Erik Van Looy. It is about a group of five men who share a secret loft space where they can cheat on their wives without leaving a paper trail. As the movie begins, we learn that a woman has been found dead in the loft and the men try to figure out which of them is responsible. Rather than being told chronologically or with a specific framing sequence, the movie jumps around in time and reveals countless plot twists and permutations. All of the men have secrets and have made mistakes, but who is ultimately to blame for the woman lying murdered and handcuffed to the bed?
None of the characters in the movie are safe from being shown as unlikable. One of my main concerns with the movie before seeing it was that it would glorify cheating in some way or try and play it off as either a "boys will be boys" or "wives aren't worth staying true to." The movie deals with many of these concerns head on, such as showing how impossible it would be for five guys to actually keep each others' secrets. It deals with the fact that the wives would probably figure things out, and while it does portray several of the wives as irredeemable shrews (particularly Rhona Mitra's Allison, wife of James Marsden's Chris) they do have their moments as well. Probably the best character of the wives is Kali Rocha's Mimi, wife of Eric Stonestreet's Marty. She makes a scene at a party, telling him "maybe I've already gotten even…"
If this sounds like a boys vs. girls movie, it's not. There's so many plot twists and skeletons in every closet that it feels more like we're just trying to figure out exactly what happened before we can even decide if any of the characters are redeemable. Chris (James Marsden) becomes the de facto protagonist as he seems to be the one figuring out most of the story and has the most time on screen.
I also had an expectation that a movie involving five men cheating on their wives in a stylish loft would involve a few sex scenes. That's not really the case as the sex that is shown in the movie is more evidence than erotic with much of it being shown from a fixed security camera. Karl Urban and Isabel Lucas (Sarah) have a skinny-dipping scene that lingers on his chest and her butt, but it really doesn't go anywhere near as far as I was expecting.
This leads to the movie being somewhat confusing. If you're not paying very close attention to all the revelations, what is said, who is exchanging meaningful glances (which happen in nearly every scene) by the time you realize that no steamy sex scene is going to happen you will be completely lost. The movie tacks on at least two additional twists after it seems to reach its resolution which can also be infuriating if you thought they were done playing that game. Overall, if you know what you're in for – a thriller with enough plot twists for a television season – you're likely to enjoy it more. It didn't need to be quite so scattered, but I enjoyed it for what it was and was able to keep up with what was happening.
Aaron and I saw it in the theater and had a discussion in the car: