Black or White – Movie Review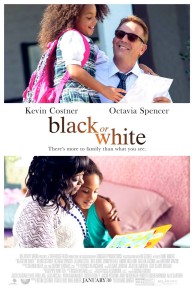 Black or White – PG-13
Release Date: Fri 30 Jan 2015
Kevin Costner plays Elliot, who along with his wife has been raising his granddaughter Eloise (Jillian Estell) since birth. Eloise's mother (Elliot's daughter) died during childbirth, and her father Reggie (André Holland) has been out of the picture. As the movie begins, Elliot's wife has been killed in a car accident leaving him alone to take care of Eloise. At this point Reggie's mother Rowena (Octavia Spencer) begins to push Elliot for shared custody so that Eloise can experience the rest of her family. When Elliot refuses, Rowena sues for full custody.
The movie then divides it's time between conversations in and out of court. Race is part of the conversation in both places, and some stereotypes are explored. In several cases, the movie feels like it is transparently trying to build a reason to talk about some sensitive subjects, like Reggie being a stereotypical black deadbeat dad. Both Elliot and Reggie have addiction issues, but Elliot's is more socially acceptable (alcohol) than Reggie's (crack cocaine.)
If the movie were called something like "What's Best for Eloise," I could give it a bit more room to pursue the drama that it does. But with such an obvious title, it's hard to ever lose sight of the fact that this movie desperately wants to talk about race even though it's best moments on any subjects are when it focuses on the characters and their humanity. It's a movie I can't quite recommend as mandatory viewing, but it's certainly interesting enough to watch at home some time when you're looking for a family court drama with good performances and a light, humorous touch.
Cal and I saw it in the theater and had a discussion in the car: