The Second Best Exotic Marigold Hotel – Movie Review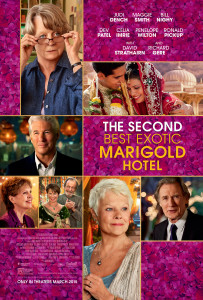 The Second Best Exotic Marigold Hotel – PG
Release Date: Fri 06 Mar 2015
The sequel to 2011's excellent The Best Exotic Marigold Hotel is another dramedy following most of the same characters as well as a few new faces. The story is framed by the planning, parties and ceremony of hotel owner Sonny (Dev Patel) and Sunaina (Tina Desai.) The elder cast all have their own subplots as well. Maggie Smith's character is trying to help Sonny expand into the second hotel – which is where the title of the film comes from. Billy Nighy and Judi Dench's characters are trying to decide whether to act on their romantic feelings toward one another. Madge (Celia Imrie) is trying to decide between two wealthy suitors. Norman (Ronald Pickup) is trying out monogamy, and Guy (Richard Gere) is trying to get ideas for a book by dating Sonny's mother – while also possibly being the secret hotel inspector sent by the hotel's prospective American investors.
While it's possible to watch this sequel without seeing the original, it's much more fun to have spent that time getting to know these characters. It would also be a shame to see the movies out of order if you like the second, because the first is also very good. The older cast is fantastic and their stories are more disconnected from the main story here, with the groundwork still fully in place from the first film. The hotel residents live there, spending their days as they see fit (working, dating, etc.) and their nights at the Marigold.
It's the younger cast's story – Sonny's wedding planning and his attempts to expand the hotel – that form the main structure and story to the movie. Maggie Smith's Mrs. Donnelly is directly helping Sonny manage the hotel, Sonny's mother is trying to impress Guy despite reservations about dating him at all, and Guy may be the secret inspector that Sonny must impress in order to expand. The other characters are supportive but mostly work in satellite roles rather than directly.
The movie has a very sunny, optimistic tone throughout and is an inoffensive comedy that you can take your parents and children alike and all will enjoy. If you've not seen the first, I recommend it on its own merits. It will also be a good indicator for how you'll feel about the second, though it is certainly not a rehash and feels like a natural continuation of the story. It's a very enjoyable film that I can universally recommend.
Aaron, Cal and I saw it in the theater and had a discussion in the car: