Ex Machina – Movie Review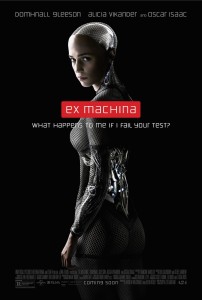 Ex Machina – R
Release Date: Fri 10 Apr 2015
Caleb (Domhnall Gleeson) wins the opportunity to spend a week with his company's CEO Nathan (Oscar Isaac), a reclusive genius who created the world's most popular search engine. Shortly after arriving in Nathan's remote home, he finds that Nathan actually wants him to test an AI in the form of Ava (Alicia Vikander) a robot that may be the first with true consciousness.
But there are darker implications below the surface. Nathan can be charming or cruel, and Caleb begins to wonder whether he himself is the one being tested. Ava sows seeds of doubt about the entire process when a power cut temporarily gives them privacy from Nathan. She tells Caleb not to trust Nathan, that he is lying about everything.
Ex Machina boils down to the triangle between Caleb, Nathan and Ava with Nathan and Ava trying to convince Caleb that they are the one he should trust and the other is the one he should be wary of. Caleb himself is the audience surrogate, a role Gleeson has shown a talent for in movies like Frank. This makes him fairly light on a personality of his own but allows us to feel more engaged through him with the story. Vikander and Isaac are especially good, with Ava feeling vulnerable but alien enough to not be human and Nathan vacillating between a charming recluse and a raging drunk.
This is good, cerebral sci-fi that emphasizes drama and explores questions rather than try to entertain with action sequences. That's not to say it doesn't have incredible effects. The design of Ava, which constantly reminds you that you are not looking at a human being is so seamless that it becomes genuinely believable to the eye.
It's not likely to be a hit with the mainstream, but for those who like a good mystery in their science fiction propelled along by the Dr. Moreau style tension of being trapped with a scientist and his creations, Ex Machina is very satisfying. I enjoyed it and would recommend it.
Aaron, Cal and I saw it in the theater and had a discussion in the car: