The Other Woman, Brick Mansions – Movie Reviews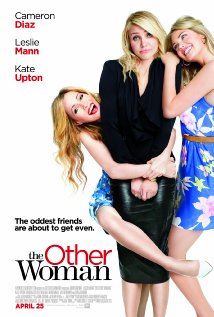 The Other Woman – PG-13
Release Date: Fri 25 Apr 2014
Cameron Diaz and Leslie Mann make for unlikely allies after discovering that Mark (Nikolaj Coster-Waldau) is cheating on his wife Kate (Mann) and girlfriend Carly (Diaz.) Having never told the women that the other existed, they end up bonding and plotting revenge as they come to discover that Mark is up to even more bad behavior.
Nikolaj Coster-Waldau is perfectly cast (nearly typecast) as a handsome, successful man that we love to hate. Before the script puts the last nails in his coffin, there's always a hint that he could charm his way out of his situation. Kate seems very naive at first, but Mann builds her into more of a quirky, shelter suburbanite than a complete ditz. Carly is more of the straight character here, and Diaz plays her convincingly tough but believably warms to Kate's "forced friendship."
Kate Upton's Amber gets about as much screen time and attention as Nicki Minaj's Lydia, Carly's assistant. They each turn in good supporting performances and fit well into the rest of the film. These aren't the sudden cameos that throw off the rhythm; All of these people belong here. Don Johnson plays Carly's dad in a couple of great scenes, and in a subtle touch is something of a womanizer himself. We feel like Carly should have known better but is also unsurprised that men misbehave.
The comedy in this movie is good most of the time. The soundtrack is bizarre – switching from "on the nose" montage songs like Cyndi Lauper's "Girls Just Wanna Have Fun" to some really cheesy pop songs that play over emotional moments. Frank Sinatra's "New York New York" for a comic jab at Mark seems bizarre after a Katy Perry-esque tune played under a touching, bonding moment between the women. The Other Woman isn't going to set the world on fire for the genre Bridesmaids-style, but it's a solid comedy and one that is probably best appreciated on a girls' night out.
Jeremiah and I saw it in the theater had a discussion in the car: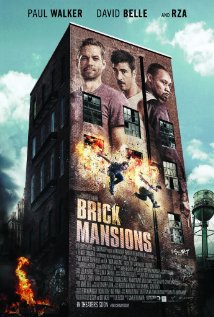 Brick Mansions – PG-13
Release Date: Fri 25 Apr 2014
Brick Mansions is a remake of 2004's District B13, a French film co-penned by Luc Besson. The remake trades Detroit for Paris and casts Paul Walker in his penultimate role as the hero, Damien alongside David Belle's Lino. Damien is an undercover cop trying to take down the villainous Tremaine (RZA) who rules a demilitarized ghetto of Detroit called Brick Mansions. Lino is a framed ex-convict trying to rescue his ex-girlfriend Lola from Tremaine.
This sounds like a straight-ahead fortress breach plot until Luc Besson's trademark genre-bending twists come along and knock the whole thing over, repeatedly. One may not simply walk into Mordor but it's easier than you might expect to get into Brick Mansions. You just better have a really good plan (or amazing parkour and fighting skills) to get yourself back out.
Walker and Belle are great in this, and Belle really shines in his action sequences. Walker has the best lines and Belle the best moves. RZA has a little trouble feeling truly intimidating but this seems a bit intentional as well. Tremaine is just a guy making the best of a very bad situation. Catalina Denis' Lola bucks the damsel in distress trope by being a true force at fighting and parkour herself, and she's well matched against Ayisha Issa's psychotic Rayzah.
The social undertones and plot twists stand out in the movie, and the action sequences are mostly well done. There's more vehicular combat than the trailer may reveal which was a nice change of pace from the hand-to-hand combat. Some of the dialogue, particularly some dubbed lines came across as super cheesy action fodder ("get him!"), but this too seemed self aware and was more of a chuckle than an eye-roll.
Jeremiah and I saw it in the theater had a discussion in the car: