Ricki and the Flash – Movie Review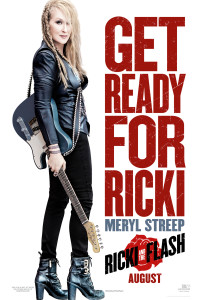 Ricki and the Flash – PG-13
Release Date: Fri 07 Aug 2015
Ricki and the Flash's effective trailer would have you believe that it is the story of aging rocker Ricki (Meryl Streep) trying to help her estranged daughter Julie (Streep's daughter Mamie Gummer.) That plot is essentially abandoned, resolved as if an early episode in a television series that never really gets further exploration.
Ricki's album deal went nowhere and she is now working as a cashier and playing with a cover band on the weekends. There's a hint of wounded pride that doesn't allow her to return to her family, but the damage has already been done by the time the movie begins. The big problem is that the story depends on you to feel empathy for Ricki, but she never stops being a selfish dilettante of a mother. There's a speech where she tries to argue that deadbeat dads still get their children's love, but mothers can't even make a single mistake without being ostracized. As it was happening in the movie, I though it was showing the moment before she realized just how wrong she's been.
The story shifts gears into Ricki making up with (of all people) her husband's new wife and using the opportunity to selfishly steal the stage at her son's wedding – and plays covers. Roll credits. Never mind that the one original song written for the movie that fits with its themes is played early for Julie and her ex-husband and an obvious choice for this performance. (She does play it THIRD at the end, during the end credits.)
I expected to have some trouble with Streep playing a musician as I've never particularly liked her other singing roles. Here, she seems to be channeling Chrissie Hynde's phrasing which works to her strengths and makes her sound both more confident and like a rock singer from that era. What I didn't expect was the sheer number of cover songs used as filler. The band, trying to cope with the cover band's audience getting younger play bizarre covers of new songs by Lady Gaga and Pink. It's supposed to get a laugh from the audience, but only the Pink one works because it is introduced. Most of the audience at our screening couldn't recognize the Lady Gaga song (Bad Romance) and laughed more in confusion than anything.
Ricki and the Flash fails at giving us a likable protagonist or the mother-daughter bonding story that it advertises. It's very disappointing.
Amber, Aaron and I saw it in the theater and had a discussion in the car: