The Intern – Movie Review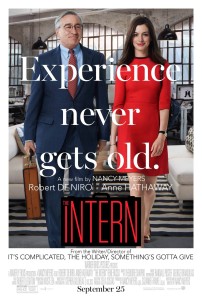 The Intern – PG-13
Release Date: Fri 25 Sep 2015
The Intern is written and directed by Nancy Meyers and stars Robert De Niro as Ben, a 70-year-old widower who is seeking out a way to be useful and engaged in his retirement. He ends up landing a senior (citizen) intern position working directly with company founder Jules (Anne Hathaway) at an online clothing store.
While the premise of the movie makes it sound like a fish out of water movie focused on Ben trying to figure out the modern workplace, that wears off pretty quickly and the movie's focus becomes Jules (and other characters) finding Ben to be an extremely wise, calming force. This mainly works because the movie does a great job of setting up Ben as someone you don't really notice and then are surprised when he has heard every word of a conversation and has keen insight into it.
The tone is playful throughout, though there are a couple of emotional twists that justify the longer running time. There is a commentary on the difference between Ben's generation and men of Jules' generation that gets a bit repetitive but not so much that it comes across as the whole reason for the movie to be made.
Overall, The Intern is a comedy with a light touch and occasionally emotional scenes. Even though it's not primarily focused on Ben and the movie seems to switch from Ben to Jules somewhere in the second act, both characters are interesting enough for the audience to follow both. It's an enjoyable movie.
Cal and I saw it in the theater and had a discussion in the car: