Brooklyn – Movie Review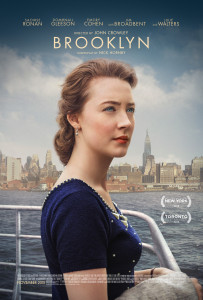 Brooklyn – PG-13
Release Date: Wed 25 Nov 2015
Brooklyn is a period drama about a young woman named Eilis (Saoirse Ronan) who moves to Brooklyn to find opportunities as there are none for her in Ireland. She begins a romance with an Italian-American named Tony (Emory Cohen) before tragedy strikes her family back in Ireland. This leads her to make a trip back and find that there may be more for her in her home town than she thought.
While a fairly predictable movie (particularly if you have seen the trailer,) Brooklyn is still an engaging and entertaining movie. The time period of American prosperity in the early 1950's is portrayed as a safe, comfortable time where work and patience are rewarded. Eilis' life at her Brooklyn boarding house and her job as a department store cashier mostly cater to what she needs at any particular time.
This has a lot to do with Eilis herself, a driven and clever character who is not self-serious. Her friendships and romantic relationships all serve to develop our understanding of her personality. However, her relationship with Jim Farrell (Domhnall Gleeson) only makes sense from a story symmetry point of view. I found that she – to an extent – leads him on in a somewhat cruel manner that does not fit with her character. That's not to say it's unbelievable or a flaw in the movie. I just personally didn't see her character going beyond keeping up appearances with people she already knew, but failing to spare an innocent new person.
Chances are high that if you were interested by the trailer you will enjoy the movie. The closest the movie gets to anti-Irish sentiment, racism or any other social ugliness are Tony's kid brother whose casual "we [Italians] don't like the Irish" is played for laughs. It's romance is well done but always feels period appropriate with no nudity and a single, understated sex scene. I enjoyed Brooklyn's story and characters as a good bit of escapism and period drama/romance.
Amber, Aaron and I saw it in the theater and had a discussion in the car: