Sicario – Movie Review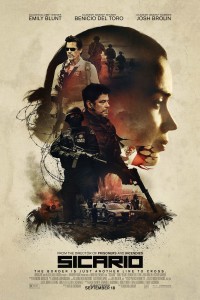 Sicario – R
Release Date: Fri 02 Oct 2015
Sicario is directed by Denis Villeneuve and stars Emily Blunt as Kate Macer, an idealistic FBI agent thrust into an inter-agency task force to fight the drug war on the border between the US and Mexico. She is recruited by shadowy figure Matt Graver (Josh Brolin) and works alongside a mysterious man named Alejandro (Benicio Del Toro.) Things get out of hand fast as she is tricked into going into Juarez, Mexico outside the FBI's jurisdiction as Graver uses her to cover some legal loopholes in the operation.
Taylor Sheridan's screenplay expertly unravels information a little piece at a time as we begin the movie experiencing Macer's confusion and resistance to the grey legality of what Graver is trying to do. There are occasional scenes of a young boy in Mexico trying to spend time with his father, a very tired police officer. When we do eventually learn Alejandro's motives, we jump to follow him full steam even though Macer is neither there or privy to much of what we learn.
All of this is shored up by excellent pacing and great action sequences. Nothing feels superhuman, and nothing happens without a lot of tension building up first. Blunt, Brolin and Del Toro are fantastic in their roles. To speak more of the plot would be to spoil the experience, so I will say if you are a fan of crime thrillers with plenty of action you should definitely make a point of seeing Sicario.
Aaron, Cal and I saw it in the theater and had a discussion in the car: