Our Brand Is Crisis – Movie Review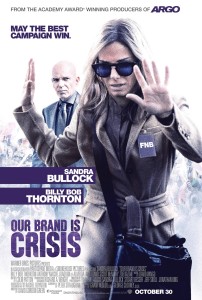 Our Brand Is Crisis – R
Release Date: Fri 30 Oct 2015
Jane, a washed up campaign manager (Sandra Bullock) is hired to help a Bolivian presidential race that is in serious trouble. It is only after she arrives that she realizes one of the other campaigns is being run by her former rival, Pat Candy (Billy Bob Thornton.)
Bullock and Thornton are given the most to do, and although their scenes together try to be fun they mostly boil down to straight up sexual harassment. The rest of the characters are never fully formed including a cast of four people on the campaign with Jane who get a line or two every twenty minutes or so. After a predictable conclusion, the movie takes a strange turn that makes it sound dangerously close to saying that only an American can solve a problem like Bolivia.
The editing further confuses things. Plot threads are set up and disappear. Jane (we're told) is supposedly afraid of people touching her. This never manifests in a payoff scene. Characters walk away from a table only to be right back at it in the next shot. There's a very confusing montage where the campaign people are reacting in one location while Jane appears to be in TWO places at once reacting. This is later cleared up, but during the montage it is really hard to tell what is going on.
Our Brand Is Crisis never quite gels into a comedy, political thriller or drama. The tone is all over the place. You deserve a better way to spend your time.
Aaron and I saw it in the theater and had a discussion in the car: