Scouts Guide to the Zombie Apocalypse – Movie Review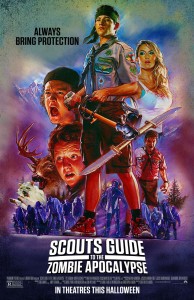 Scouts Guide to the Zombie Apocalypse – R
Release Date: Fri 30 Oct 2015
Three scouts are torn between going on an important campout together or ditching to go to a senior party. Everything gets put on hold, however when their town is quickly taken over by zombies.
Scouts Guide has every intention of being Superbad with zombies, and while it never quite reaches that level of consistency it is pretty successful in its own right. I laughed consistently as gags were set up and then either over-delivered or went in a far crazier direction than expected. Yes, of course it's sophomoric humor (the characters ARE sophomores, after all…) with lots of sex jokes, nudity and body humor. But it did a very good job of integrating that into the zombie scenes so that they were always more clever than shooting its way out.
It has to be said that my expectations were so low that I was surprised that I liked the movie at all, let alone as much as I did. Not everyone in our group was keen on it, so I expect you have to be in the right mood. But again, I was laughing consistently and few movies are this successful at delivering as much genre comedy as Scouts Guide does.
Aaron, Matthew, Mark and I saw it in the theater and had a discussion in the car: