Daddy's Home – Movie Review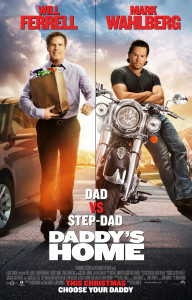 Daddy's Home – PG-13
Release Date: Fri 25 Dec 2015
Daddy's Home is a comedy that pits overachieving stepdad Brad (Will Ferrell) against the deadbeat-but-fun Dusty (Mark Wahlberg.) In a plot ripped from Mrs. Doubtfire and several dozen similar family movies, Brad and Dusty are fighting for the affections of the kids and the approval of their mother Sara (Linda Cardellini.) Refreshingly, the movie is self-aware and keeps the manipulation to a minimum. If you're going into this for the story, you'll be disappointed. It's ALL in the trailer.
There's nothing worse than a bad comedy and Daddy's Home is better than average. It manages to make the most out of all of the story beats with consistently funny scenes throughout. There's a mix of physical humor and some more subtle stuff centered around things like word choices that round things out. While Wahlberg doesn't quite stack up to Ferrell in terms of comedy, the two seem to be having a great time and it never feels like he's in over his head.
There's some language and some raunchy sections, but overall Daddy's Home feels like it's on the tamer side of the PG-13 rather than pushing at the limit. It's a pretty good case of "if they get the joke, they're old enough to see the joke." I enjoyed it more than I expected to.
John, Cal and I saw it in the theater and had a discussion in the car: