My Big Fat Greek Wedding 2 – Movie Review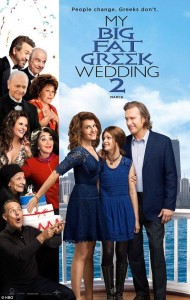 My Big Fat Greek Wedding 2 – PG-13
Release Date: Fri 25 Mar 2016
Nia Vardalos returns as the writer and star in the sequel to her 2002 film My Big Fat Greek Wedding.
Toula (Vardalos) and Ian (John Corbett) have a daughter who is about to graduate high school and is considering leaving her family behind to go to college out of state. Meanwhile Toula's parents realize that the officiator of the 1963 wedding never signed their certificate, meaning that they never correctly got married.
While the story is fairly predictable, it doesn't feel like character regression. This isn't a sequel that feels like its characters are learning the exact same thing over again. It's a nice inversion to make the wedding more of a renewal of vows for Toula's parents instead of rushing the daughter into marriage or making some kind of statement on modern partnership.
There's some genuinely funny scenes and My Big Fat Greek Wedding 2 feels more like a warm, safe date movie rather than a "chick flick."
Amber, Aaron, Nathan and I saw it in the theater and had a discussion in the car: