Cinderella – Movie Review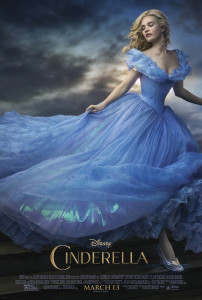 Cinderella – PG
Release Date: Fri 13 Mar 2015
Cinderella is a live action retelling of Disney's 1950 animated film directed by Kenneth Brannagh. It stars Cate Blanchett as the Stepmother and Lily James as Cinderella.
Rather than put a modern spin on the classic as many contemporary movies have done, Cinderella stays true to its classic roots and keeps many of the characters and plot points from the 1950 animated version. More time is given over to develop Cinderella and the stepmother's back story as we meet Cinderella's mother and father prior to their deaths. Cinderella's animal friends are also present, including the mice. In this version they are non-speaking CG characters and are not anthropomorphized, but serve a similar function as her friends.
Helena Bonham Carter's Fairy Godmother narrates, and the actress is more sedate than normal during the narration. When she appears on screen, she plays the Godmother as a somewhat ditsy character for comic effect. The visuals are all well done, with the transformations of Cinderella's coach and dress well realized. The sets and world are also fantastic, from Cinderella's beautiful house to the elaborate royal palace. The grand scale Brannagh had with Thor is similarly on display here, yet Cinderella's world feels more rooted and real by being based on a realistic European kingdom rather than the fantastical world in Thor.
The animated Cinderella famously saved Walt Disney studios after the financially devastating 1940's, and is an important film in Disney's catalog. This live action version strips away the musical numbers but leaves much of the rest in tact while adding its own magic touches and a fabulous performance from Blanchett. It's a fun family film and recommended viewing.
Cal, Hannah and I saw it in the theater and had a discussion in the car: