Keanu – Movie Review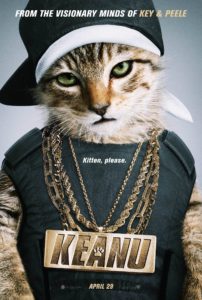 Keanu – R
Release Date: Fri 29 Apr 2016
Keegan Michael-Key and Jordan Peele star in this action/comedy about two friends who impersonate drug dealers in order to get back a kitten, the titular Keanu.
Writers Peele and Alex Rubens manage to keep this premise from feeling like a stretched comedy sketch by putting in great side stories, action beats and factions at play. My biggest concern with Keanu going in was that the trailer was the funnier version of the story and that things couldn't stay at that level.
Thankfully, Keanu is a hilarious R-rated comedy with plenty going on, a good supporting cast and some great extended cameos. When I like a comedy, I don't want to say too much and ruin the fun of the surprise. I like Keanu and recommend it.
Matthew, Aaron and I saw it in the theater and had a discussion in the car: