Sing Street – Movie Review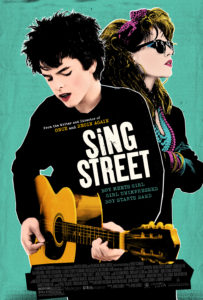 Sing Street – PG-13
Release Date: Thu 17 Mar 2016 (Ireland)
Sing Street is the third movie I've seen from director John Carney and all three have centered around music. In Sing Street, a group of boys form a band in order to justify Cosmo's (the protagonist) inviting an older girl to be in their music video. The boys start not knowing how to play or write at all, but are quickly educated and mentored by Cosmo's older brother.
The original and licensed music in the movie are a love letter to the 80's, with new songs introducing new sections of the story. When Cosmo is exposed to The Cure, he shows up to school with his hair teased up like Robert Smith and writes a song to try and match the "happy sadness" of their sound. These songs and illuminating direction all come from Cosmo's older brother who has an appreciation for these things and is quite a bit older.
The band and the budding relationship between Cosmo and Raphina feel very authentic. The balance between believable and "only in the movies" is extremely well done, with a fantasy sequence standing in for the literal Hollywood ending Cosmo imagines. As to the real ending – I won't spoil that here.
I enjoyed Once and loved Begin Again, but Sing Street may be my favorite John Carney movie yet. This would make a great date movie, particularly if you're a fan of 80's tunes.
Amber, Aaron and I saw it in the theater and had a discussion in the car: