Calvary – Movie Review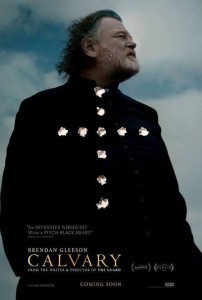 Calvary – R
Release Date: Fri 11 Apr 2014
Writer/Director John Michael McDonagh begins Calvary with a ticking clock mystery scenario. Father James (Brendan Gleeson) is told through the confessional screen that the confessor plans to kill him. The reason is somewhat strange. The man who we hear but do not see speaks of sexual abuse he was subjected to as a child by a now dead priest. He feels that killing a bad priest would be pointless, but Father James is a good man. So he gives him a week to put his affairs in order before being killed.
The days play out in darkly comedic conversations as we get to know the other characters in the town. Father James claims to know who the confessor is (it's an incredibly small community) but he never tells the audience. All of the characters have a dark moment with him, a shared feeling of hopelessness and an uneasy sense of respect and cynicism for the church he represents.
Father James is a widower, having joined the church after his wife passed away. His daughter Fiona (Kelly Reilly) comes to visit after a failed suicide attempt. Jack Brennan (Chris O'Dowd) is accused of hitting his wife Veronica who is making a big show of sleeping with African immigrant Simon. There's a black-hearted doctor (Aiden Gillen), an elderly author who wants a gun so he can choose when his death comes, a banker living with the trappings and repressed guilt of helping cause the economic crash, and a younger priest who vacillates between cowardice, racism and naivete.
Spending the time we do with these characters gives us a lot of insight into their motives and flaws. There's no clear villain or hero. The week spent by Father James "getting his house in order" has a lot to do with him doing his best to counsel all of these unhappy souls before one of them plans to murder him. Yet, the movie is not preachy or concrete in its morality. Everything is shades of grey.
To me, watching the movie felt almost like a Western where the showdown at high noon was always coming. It's a great achievement for all involved and well worth a watch.
Hannah and I saw it in the theater had a discussion in the car: