Finding Dory – Movie Review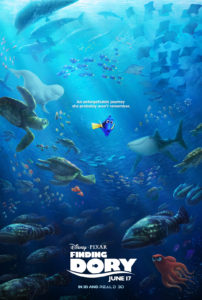 Finding Dory – PG
Release Date: Fri 17 Jun 2016
The sequel to 2003's Finding Nemo focuses on Dory (Ellen DeGeneres), the nice but very forgetful blue tang who helped Marlon (Albert Brooks) search for his lost son in the prior film. A few clues and phrases allow Dory to remember that she lost her parents and she becomes obsessed with tracking them down.
Apart from the Toy Story movies, Pixar has not had a great track record with making compelling sequels that are more than just a reminder to buy character merchandise. Finding Dory has a sound premise and script that walks the fine line between familiarity and uniqueness with the prior film. The new characters are great, including a camouflaging octopus (Ed O'Neill) and a near-sighted whale named Destiny (Kaitlin Olson.) There's also a couple of sea lions played by Idris Elba and Dominic West that were excellent comic relief.
Parents and children alike will enjoy Finding Dory. While it's a good reference, it's not absolutely necessary to have seen Finding Nemo recently or at all to enjoy Finding Dory. It's a fine stand alone film and a great addition to the Pixar library.
Aaron and I saw it in the theater and had a discussion in the car: