Ouija: Origin of Evil – Movie Review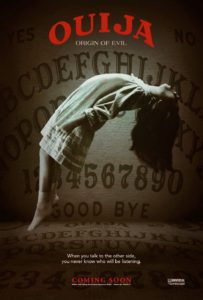 Ouija: Origin of Evil – PG-13
Release Date: Fri 21 Oct 2016
2014's Ouija was one of my least favorite films of that year. I am as surprised as anyone that this second installment – a prequel – is vastly superior. Co-writer/director Mike Flanagan brings a similar sensibility to his prior film Oculus as well as that movie's star, Annalise Basso.
Small but important touches like using an older version of Universal's credits and an old school title card with roman numerals help place the film in it's 1960's era. The three main characters are actually well developed with an excellent, deliberately paced first and second act.
Elizabeth Reaser, Basso and Lulu Wilson play the mother and daughters Alice, Lina and Doris Zander respectively. All of the Zander's are sympathetic and believable. Alice is a medium, trying to politely con marks out of money to pay the bills after the death of her husband. Lina is a sophomore starting to experiment with boys and Doris cute and naive, trying to understand everything.
It's this curiosity that leads to disaster when Alice starts working to incorporate a Ouija board into the act, not knowing that it will bring terror into the house. This is sold by how deliberately paced everything is. There are also a few clever nods in the script to buck horror cliches. "Splitting up right now seems like a terrible idea." Indeed.
Ouija: Origin of Evil is a good spooky movie experience for the Halloween season. If you've managed to avoid the 2014 original, my advice is to keep it that way and just stick with this excellent prequel.
Aaron and I saw it in the theater and had a discussion in the car: