Manchester By The Sea – Movie Review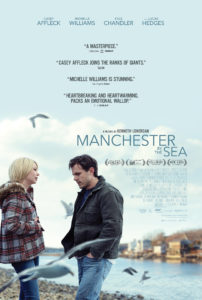 Manchester By The Sea – R
Release Date: Fri 16 Dec 2016
Writer/director Kenneth Lonegran returns with Manchester By The Sea, a drama with a warm amount of humor mixed with grief. Lee (Casey Affleck) is shocked when his brother Joe dies and names him guardian of his teenage son Patrick (Lucas Hedges.) Lee tries to navigate his way through how to deal with this responsibility while remembering the reasons why he left town in the first place.
The movie does an amazing job of portraying grief, particularly a kind of unspoken, silent male grief that is manifested in Lee's character. This is not a character out of touch with his emotions, it's a character that works hard not to let it verbalize and is often successful.
The women in the film are striking in how realized they feel for how few scenes they are in. Gretchen Mol is Patrick's estranged mother and Michelle Williams is Lee's ex-wife. The estranged mother is a basket-case in an exaggerated mirror of Lee. We only see her at her worst, yet there are hints of sympathy. Michelle Williams is a study of guilt, though we see her before and after the incident that ended their marriage. There's similarities between Patrick's reaction to his mother and Lee's reaction to his ex. Lee just has more experience and self-knowledge.
Manchester by the Sea is a fantastic drama with a lot of heart and some extremely sad moments. Whether the overall message of the movie is hopeful or not probably depends greatly on the viewer, but it's certainly worth the journey to have that introspection. I found myself wanting to spend more time with the characters and was glad to see it with friends to talk about afterward.
Amber, Aaron and I saw it in the theater and had a discussion in the car: