La La Land – Movie Review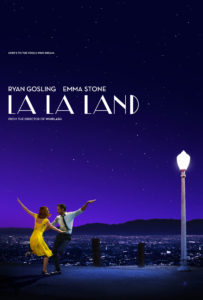 La La Land – PG-13
Release Date: Sun 25 Dec 2016
La La Land is musical comedy/drama starring Ryan Gosling and Emma Stone.
Sebastian (Gosling) is a jazz pianist with a dream to open his own jazz club who falls in love with Mia (Stone), an aspiring actress. The plot is impressively interesting and overcomes the fact that it is a very traditional romantic comedy formula at its core.
What sets La La Land apart is it's style. It's a musical, with full blown "everyone on the street starts singing and dancing" numbers that doesn't rely on that to pad out the plot. Instead, it adds a filter of romance and melds in the setting of Hollywood back lots. The central story line is grounded and realistic but that doesn't mean that everything the characters do is restricted to reality.
There's not enough music or characters for it to work as a stage musical, and with that device removed the story itself becomes a competent if somewhat cliched story. What makes the movie work is how it pulls all of these disparate ideas together into a package that the majority of viewers will enjoy the majority of the time.
La La Land is a funny, sad, hopeful and tragic mix of elements the coalesces into a crowdpleaser that everyone from fans of 1950's musicals to modern romantic comedies will enjoy with charming performances from its leads. A perfect movie for the holiday movie season.
Hannah, Aaron, Bess, Amber and I saw it in the theater and had a discussion in the car: