Beauty and the Beast (2017) – Movie Review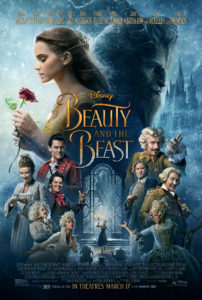 Beauty and the Beast – PG
Release Date: Fri 17 Mar 2017
Disney's latest live-action remake of their animated features is this 2017 release based on both the 1991 film and it's incarnation as a Broadway musical. The 1991 film was part of Disney's extremely successful run that had started with 1989's The Little Mermaid. Twenty-six years later, there are a lot of people who hold that film in high regard, if not consider it their favorite.
All the memorable songs and a lot of the art direction are here in this new version. Emma Watson is perfect as Belle, bringing the character to life with effortless charm. Many of the other characters benefit from added musical numbers and development from the musical. Kevin Kline's Maurice (Belle's father) and Dan Stevens' Beast get great extra scenes that weren't part of the animated version.
Luke Evans is equal parts amusing and menacing as Gaston. Josh Gad's Le Fou (Gaston's toady) is a wonderful broadening of that character that lets Gad show off his comedic and singing talents that helped cement Book of Mormon into a musical phenomenon. Adults in the audience will pick up on the many hints that his character is interested in Gaston as more than a friend. It feels like an in-joke with the adults rather than some kind of controversial agenda. Best of all, it works and fits right into the tone of this film.
Fans of the original need not fear this remake – it's as solid as any of the other live-action remakes of late, and benefits mightily from its animated and musical pedigree. At a little over two hours, be aware that little ones will probably need a break or two to get through it, but will be greatly entertained otherwise.
Zak, Cal and I saw it in the theater and had a discussion in the car: