The Lost City of Z – Movie Review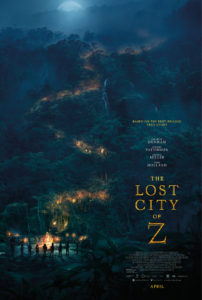 Lost City of Z – PG-13
Release Date: Fri 21 Apr 2017
The Lost City of Z (pronounced "zed") is the true story based on the life of British explorer Percival Fawcett who searched for a mysterious city in the Amazon jungle in the early 20th century.
Charlie Hunnam stars as Fawcett who works alongside Henry Costin (Robert Pattinson) to survey a South American River. As they complete their work, he discovers pottery – relics of a lost and advanced civilization. This flies in the face of the British sense of South American culture, which they see as peopled by "savages."
The film was co-written by David Grann, writer of the book, and is probably a good distillation of the source material. Unfortunately it makes for an unwieldy 141-minute period drama that is very light on characterization and action. Events play out pageant style. That's not to say there isn't genuine suspense or good acting. It feels as though it hasn't been dramatized at all which may make the movie accurate rather than entertaining.
It's a long, somewhat baffling movie that never quite reaches a climax. The historical information, costuming and performances are great. Under the right circumstances and the convenience of a pause button, The Lost City of Z is an intriguing experience that may just not have been done right for a satisfying film.
Nathan and I saw it in the theater and had a discussion in the car: