Suburbicon – Movie Review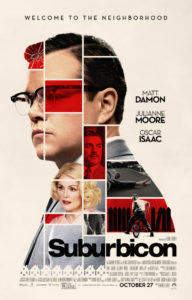 Suburbicon – R
Release Date: Fri 27 Oct 2017
Suburbicon was written by Joel and Ethan Coen and directed by George Clooney. It stars Matt Damon, Julianne Moore and Oscar Isaac.
Trailers for Suburbicon masterfully hide the real story here. It's a movie that is nearly impossible to discuss without spoilers – and you'll find none here.
It's a crime mystery not too divorced from a movie like Fargo. While it has some of that movie's dark comedy, this is more of an unraveling story rather than the "series of insane events" style presented in the trailers.
It's quirky, bold and a movie that you may need to digest for a good twenty minutes before you decide what you think of what you just saw. Expert filmmaking and well worth finding out all the things I refuse to spoil.
Matthew and I saw it in the theater and had a discussion in the car: