Guardians of the Galaxy Vol. 2 – Movie Review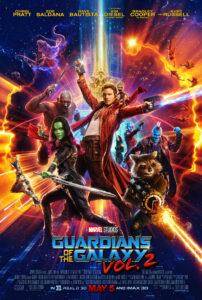 Guardians of the Galaxy Vol. 2 – PG-13
Release Date: Fri 05 May 2017
James Gunn is back to direct this sequel to 2014's Guardians of the Galaxy. Fans of the original need not fear – the sequel brings back the characters, humor and emotional core that made Guardians of the Galaxy an unexpected jewel in the Marvel Cinematic Universe. Just like the first one, you don't have to have ever picked up a comic book to enjoy the appeal of Guardians.
Vol. 2 goes deeper into the backstories and fleshes out most of the main cast and beefs up several that had little screen time in the first installment. Where the original was Starlord's story, his is only one of many arcs going on this time. Gamora (Zoe Saldana) and her sister Nebula (Karen Gillan) have to face their past abuse at the hands of their father, Thanos (not in this film.) Rocket (voiced by Bradley Cooper) and a much more central Yondu (Michael Rooker) also have some quality bonding to do.
While nothing will quite stack up to the breathless quality of how much the first movie exceeded expectations, Vol. 2 is a solid sequel and well worth seeing. We saw it in IMAX 3D and really enjoyed that experience.
Bess, Matthew, Chris and I saw it in the theater and had a discussion in the car: