Alien: Covenant – Movie Review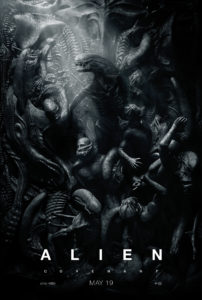 Alien: Covenant – R
Release Date: Fri 19 May 2017
A crew of colonists on their way to life on a new planet happen upon a promising new world closer than their original destination. Things go horribly wrong from there.
This is director Ridley Scott's third entry into the Alien universe and serves as a sequel to Prometheus and a prequel to the 1979 original Alien.
Covenant is buoyed by a great cast, Ridley's trademark gorgeous visuals and sound design. It is a lean, fast-paced movie that doesn't stop to handhold or to reinforce the connective tissue of the films of it's direct chronology. It's a movie that can completely stand on its own and work well as a film.
A couple of "prologue" videos of about ten total minutes provide a little more connection between Prometheus and Alien. I would only watch those videos if you've already seen Prometheus and (arguably) Alien: Covenant as well. There are some hints that might give away some of the surprises.
There was something of a backlash to Prometheus that I don't think will be felt with Alien: Covenant. It's a great addition to the Alien series and a solid sequel to Prometheus. We enjoyed it in IMAX with fantastic sound.
Matthew, Aaron, Cal and I saw it in the theater and had a discussion in the car: