Annabelle: Creation – Movie Review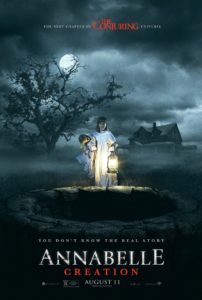 Annabelle: Creation – R
Release Date: Fri 11 Aug 2017
Annabelle: Creation is a prequel to 2014's Annabelle. That movie was a spin-off of the more confident Conjuring movies from popular horror director James Wan. Where Annabelle was directed by frequent Wan cinematographer John R. Leonetti (who similarly went from DP of Mortal Kombat to director of it's terrible sequel), this time the reins are Lights Out director David F. Sandberg.
The results are a drastic improvement that elevates Annabelle: Creation into a serviceable but not great horror film. Character development is crucial for a movie like this to not end up feeling like a conveyor belt of scares and death. Creation pulls this off with aplomb, introducing us to a group of orphan girls, the nun who takes care of them, and their benefactors, a married couple with a large home. Hours after the credits rolled, I can still tell you most of their names. This is not typically the case with more disposable horror movies.
Where Annabelle falls short is on adding a new wrinkle into the third act that we don't already know. This being a prequel full of characters we've never seen there were plenty of possibilities. Unfortunately all the cool effects and scares were jammed into the trailer and the third act is made up of the characters realizing what the audience mostly knows before jumping to a really lame scene that acts as connective tissue to the first Annabelle movie.
Great horror movies are hard to find at the theater these days, but in a pinch Annabelle: Creation fits the bill. Just keep those expectations low.
Aaron and I saw it in the theater and had a discussion in the car: