The Disaster Artist – Movie Review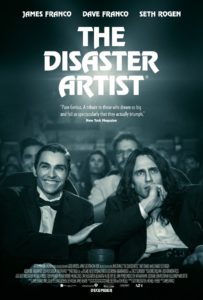 The Disaster Artist – R
Release Date: Fri 08 Dec 2017
The Disaster Artist is an adaptation of Greg Sestero's book about his friendship with Tommy Wiseau and the making of the cult 2003 film The Room. James Franco stars as Tommy and directed the movie in character. His brother Dave plays the part of Greg.
The Room isn't a prerequisite for enjoying The Disaster Artist, but skipping it won't save you the more uncomfortable moments recreated here. I truly enjoyed the audiobook version of The Disaster Artist which was read by Greg Sestero, who himself does a mean Tommy impression.
The book alternates chapters between the making of The Room and the meeting and friendship of Tommy and Greg. That really helps the momentum of the book, but would be really messy for a film. Instead, the film begins with Greg and Tommy's meeting and the making of The Room is effectively the second act. The third act, which compresses several years worth of screenings and emotional acceptance into the movie's premiere is less about being factual than about being a satisfying conclusion to the movie.
After "The End" appears on screen, we're treated to some shot-for-shot comparisons between scenes in The Room and scenes re-shot by The Disaster Artist's production. It's amazing how closely they recreated those scenes. (There's also an awesome stinger after the credits that's well worth the wait.)
James Franco is absolutely perfect as Tommy Wiseau. If you're a fan of The Room and you can get your hands on the audiobook of The Disaster Artist, it's worth the 11+ hours to listen to. This movie works before or after it, and is great fun as well.
Matthew, Aaron and I saw it in the theater and had a discussion in the car: