Black Panther – Movie Review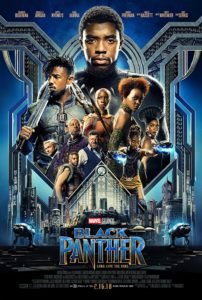 Black Panther – PG-13
Release Date: Fri 16 February 2018
Chadwick Boseman reprises his role as T'Challa/Black Panther, a character he played in 2016's Captain America: Civil War. Black Panther takes place chronologically between the events of Civil War and the forthcoming Avengers: Infinity War.
By introducing the character in Civil War, Black Panther has a chance to have a story focused on forward momentum of the character rather than giving us just an origin story. T'Challa's father, King T'Chaka (John Kani) was killed in Civil War. The main plot of Black Panther is about T'Challa being coronated and challenged from within by the other Wakanda people and a forgotten descendant.
Black Panther is a beautiful looking, well-acted movie with a fairly good story. It's villains have sympathetic motives rather than simple "destroy the world" plans. The cast includes strong younger actors like Boseman, Michael B. Jordan and Lupita Nyong'o. Veteran actors include Angela Bassett, Forest Whitaker and Andy Serkis.
We saw it in 2D IMAX and enjoyed that experience. The consequences of the story will play into Infinity War (including a post-credits scene), making this mandatory viewing for Marvel completionists.
Amber, Aaron, Cal and I saw it in the theater and had a discussion in the car: