T2: Trainspotting – Movie Review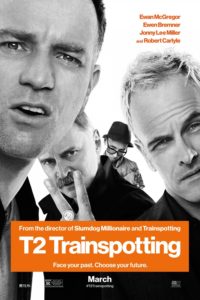 T2: Trainspotting – R
Release Date: Fri 31 Mar 2017
Twenty years after Mark Renton (Ewan McGregor) chose to run off with his criminal friends' money at the end of Trainspotting (1996), Renton is back in town. His apologies and attempts at amends fall on somewhat deaf ears as Simon aka Sickboy (Jommy Lee Miller) gets him wrapped up in a shady new plot with unforeseen consequences for them all.
It's an extremely risky move to do a late sequel to a movie that has come to be as revered as Trainspotting, but Danny Boyle and the cast of characters that survived the events of the first movie are all back in one way or another. T2: Trainspotting is about former rather than current heroin addicts, and so the lights aren't as bright and the soundtrack doesn't frenetically drive the movie forward. Nor does it feel the need to put in the disturbing nightmare fuel of it's predecessor. (Man alive, that upside-down baby…)
Instead T2 tells an all new story, plus gives us a recap of the past twenty years AND digs deeper into the past. It shows the four boys beginning school together and how Begbie (Robert Carlyle) was in their class after being held back. Much of the movie is also framed as though it's being told by Spud (Ewen Bremner), who is becoming interested in writing down their stories.
It's wonderful to see the four men back playing these roles again twenty years on, wiser and worse for wear. Kelly Macdonald's Diane (Renton's underage girlfriend) and Shirley Henderson's Gail (Spud's girlfriend) both make appearances but are smartly not the focus of the story. Simon/Sickboy's new girlfriend Veronika (Anjela Nedyalkova) is more prominent, but is mostly there to serve the story.
Don't be afraid that T2: Trainspotting will somehow ruin the original film. While it does rely upon it for some stock/flashback footage, T2: Trainspotting does stand on it's own in the end and is a cathartic (if not classic) experience.
Nathan and I saw it in the theater and had a discussion in the car: