Avengers: Infinity War – Movie Review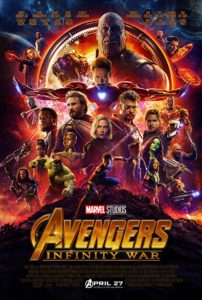 Avengers: Infinity War – PG-13
Release Date: Fri 27 April 2018
Avengers: Infinity War is the third massive superhero team-up movie following the original The Avengers and Avengers: Age of Ultron. Marvel's impressive cinematic universe allows for lots of development and new characters to be added to the roster by the intervening movies. The most recent example of this is Black Panther, which introduced characters and locations that are important to this major event.
While Infinity War has some great levity – especially when playing two characters that have not yet shared a scene. On the whole, though, Infinity War is one of the bleaker stories Marvel has turned out. The impact of this is there from beginning to end as we watch Thanos, the most dangerous villain yet in the cinematic universe collect the six infinity stones and become unfathomably powerful.
While this was originally titled Avengers: Infinity War Part One, I think they did well not to say outright that this was half of a story. The Avengers are well shaken up by the events of this movie and it's hard to even think about how that plays into forthcoming movies such as Ant-Man and The Wasp or Captain Marvel.
Avengers: Infinity War is not going to convert people who aren't on board with the Marvel Cinematic Universe, but for everyone else you likely know whether or not this should be on your list. Even at 149 minutes it felt packed and well paced.
Amber, Cal, Aaron and I saw it in the theater and had a discussion in the car: