Southpaw – Movie Review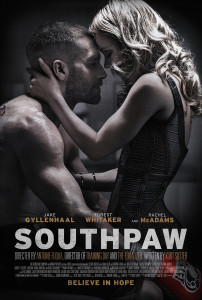 Southpaw – R
Release Date: Fri 24 Jul 2015
Southpaw is a boxing drama starring Jake Gyllenhaal as Billy Hope, the title character, whose life spirals out of control following the shooting death of his wife (Rachel McAdams) and the subsequent loss of custody of his daughter (Oona Laurence.) He gets training and guidance from an older trainer (Forrest Whitaker) to try and get his daughter back and restart his boxing career.
Director Antoine Fuqua and writer Kurt Sutter are a great combination but the film never quite lives up to its brilliant first act. We get a lot of development and promise for Rachel McAdams' character, a shady promoter played by 50 Cent, and Hope's entourage who all disappear after the wife is killed. The remainder of the story is a by-the-numbers Rocky-style boxing story culminating in a ludicrously long boxing match.
Gyllenhaal, McAdams, Whitaker and Laurence are all very good in their roles, but the story just doesn't give them enough to work with. It feels like a movie missing a couple of plot twists, including one particularly silly off-screen death that feels toothless in its absence. I was a big fan of Fuqua's last film, The Equalizer and am a big fan of Sutter's writing from Sons of Anarchy and The Shield. This movie does not hurt either of them but it isn't up to the high standards I expect. The same goes for Gyllenhaal who was electric in Nightcrawler and Enemy but is stuck here in a character that only has sadness and rage gears.
Amber, Aaron, Matthew and I saw it in the theater and had a discussion in the car: