When The Game Stands Tall – Movie Review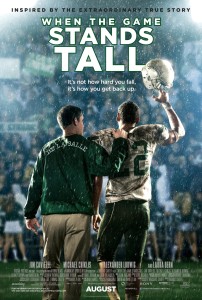 When The Game Stands Tall – PG
Release Date: Fri 22 Aug 2014
When The Game Stands Tall is inspired by true events regarding an exceptional high school football program led by coach Bob Ladouceur (Jim Caviezel.) The team holds an incredible winning streak of over 150 games in a row. The team, coach and the community are put through hard times when one of the players is killed, the coach is sidelined for months to recover from emergency surgery and their confidence is shattered after losing the streak.
While the trailers lead us to believe that restoring the streak is the main focus of the movie, it's more of an exploration of the personalities involved, particularly Ladouceur. He builds great teamwork and brotherhood within his team, yet has trouble connecting as a husband and father. While the movie certainly paints him in a positive light, it is not a flawless one.
There are many characters explored which give us a bigger sense of who the team is off the field. The player whose father (Clancy Brown) is too obsessed with his son setting a career touchdown record. The friends who are torn as to whether to stay close to family or follow their dreams of going on to college together. It's all well acted and fascinating and pays off well.
This was a fine sports drama and even as a viewer not typically invested in sports movies I enjoyed it.
Aaron and I saw it in the theater had a discussion in the car: