The Judge – Movie Review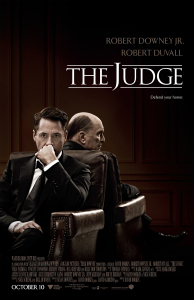 The Judge – R
Release Date: Fri 10 Oct 2014
There's a good chance that this movie would feel extremely dark and depressing without the central performance from Robert Downey Jr. While it helps that the character and the actor share a rocky past, the humor he imparts into Hank Palmer makes the lawyer feel like a whip-smart character with funny asides that can eviscerate someone's testimony or feel like a private joke with the audience just under his breath.
The focus of The Judge is the story. While it has great actors giving great performances, this isn't about characters growing and changing. It's more about catching up and getting to know these people, twenty years estranged. Hank has grown up and become a successful lawyer leaving behind his father Judge Joseph Palmer (Robert Duvall) his brothers Glen and Dale (Vincent D'Onofrio and Jeremy Strong) and ex-girlfriend Sam (Vera Farmiga.)
Hank reluctantly returns to his childhood home for his mother's funeral, staying a single night and flying home the next morning. However, he becomes pulled into helping the family when his father stands accused of first degree murder and his chosen attorney (Dax Shepard) is barely competent – let alone ready to defend a murder case. This is illustrated further when the prosecutor (Billy Bob Thornton) manages to take the case to trial.
This is not a courtroom drama. Yes, there are several scenes in court and a handful of revelations that happen there, but a movie where Robert Downey Jr. and Billy Bob Thornton engage in a battle of wills over Robert Duvall's fate is just not what happens here. The movie is in service to the story. There is the re-connection of Hank and his father and the mysteries of why the judge had more reason than most to want to kill the man he stands accused of murdering.
It's a fascinating, well-paced movie that seems to fall into the rare category of a movie that doesn't drag over overstay its welcome – even at 141 minutes long. There's plenty to like here, and the many, varied scenes between Duvall and Downey Jr. alone are worth the price of admission.
Cal, John M. and I saw it in the theater and has a discussion afterward in the car: