Dear White People – Movie Review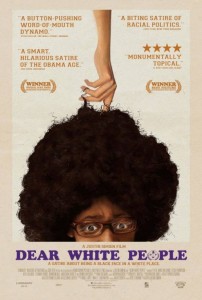 Dear White People – R
Release Date: Fri 24 Oct 2014
The trailers for Justin Simien's "Dear White People" comes across as a college comedy about race in college. It looks stylish, funny and sharp. The tone of the actual movie is much more muted. This isn't necessarily a bad thing – it just takes some getting used to.
The style is there; this looks something like a Wes Anderson movie and is well directed. The writing and characters are also very good. They feel grounded and real. Sam (Tessa Thompson) is who I incorrectly assumed was the center of the story. She's the one with the radio program and the white boyfriend. Her arc is impressively different than expected. Lionel (Tyler James Williams) turns out to be closer to the central character of the story, though he's so quiet and introverted that it takes a while for this to come out. In a way that I won't spoil here, he finishes what Sam started, subverting our expectations of both characters.
There's also Coco (Teyonah Parris) who wears blue contacts and straight hair. She wants to be a reality TV star and have people know her name. Troy (Brandon P Bell) is locked into a 2nd generation battle with Kurt Fletcher (Kyle Gallner) as they happen to be the sons of the college's white president and black dean.
I expected Dear White People to be a mix of comedy, awkwardness and insight. Something to talk about afterward. Instead, I felt like it did a tremendous job of realizing its characters without really having an overt agenda. It felt like the first season of a television series in that the main conflict (a white party where students wore blackface and gangsta gear) was tied off and the characters could go on to the next situation. Perhaps the alliances would change yet again based on gender issues or politics. I look forward to more from Simien in the future.
Hannah, Bess and I saw it in the theater and had a discussion afterward in the car: