Dolphin Tale 2 – Movie Review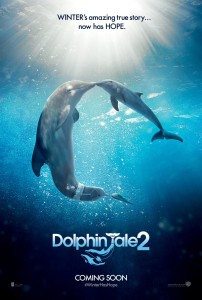 Dolphin Tale 2 – PG
Release Date: Fri 12 Sep 2014
It must be next to impossible to get a G-rating if Dolphin Tale 2, a movie so utterly harmless is considered something children can't be trusted to see on their own. I suppose their is some mild peril and a few tears shed.
My main concern seeing a movie set in a sea park in a post-Blackfish world would be its promotion of animal exploitation. It deals with this by half explaining that the park is a revenue stream to keep what is actually a wild animal hospital, rehabilitation and release facility. The exception being newcomer, Hope who was rescued offscreen after being separated from her mother. Since she never learned to survive in the wild, she's going to spend her life at the hospital.
This is great news as the other dolphin with an amputated tail must have a companion or be sent to another facility. There's occasional scenes where this dolphin uses a prosthetic tail and is linked to some real-life parallels with wounded veterans and children who have prosthetic limbs. Early on in the movie, we're introduced to a surfer who does not have a left arm.
Younger children will probably enjoy the animals and the vicarious depiction of working with animals. The leads in the movie are young and have a fair amount of responsibility in leadership which also seems aimed at allowing younger viewers to daydream about rescuing dolphins and turtles. It's a pleasant enough film to watch.
Aaron and I saw it in the theater and has a discussion afterward in the car: