This Is Where I Leave You – Movie Review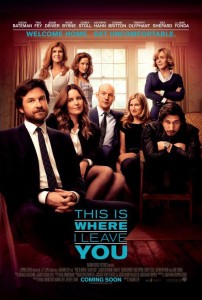 This Is Where I Leave You – R
Release Date: Fri 19 Sep 2014
On the surface, this seems like another ensemble comedy about a family reconnecting after the death of their father. And while it is often very funny it never strays into ridiculous, farcical or straight-up shock humor. For a movie that has a little kid who walks around with a training potty, it says a lot that the writing never feels overtly juvenile. It's more of a wistful memory – we used to be juvenile.
Where this movie stands out is in its heart and dramatic moments. Nothing ends on a particularly clean note, but its very satisfying in presenting that very messiness – the script's word is "complicated" – is something that Judd (Jason Bateman) needs to learn to embrace. His safe and seemingly-perfect life is ruined in a stroke when he finds his wife in bed with his boss. His career and marriage instantly are destroyed.
Jason Bateman is a funny actor and I've seen him in a lot of enjoyable roles, but this one is particularly impressive. I empathized with his character. His eyes well with tears and you can read right off his expression exactly what he's thinking. Yes, the sarcastic wit he's known for is on full display (likewise for Tina Fey) but he really carries the movie as the lead and shows a lot more than I would have expected from his body of work.
Jane Fonda is funny as the mother without being a one-note joke, which is quite a feat in that literally every scene she is in contains a joke about her character's rather conspicuous breast enlargement. Tina Fey gives a fine comedic performance but falters a little on the emotional side. There are several scenes where she looks like she's trying to cry, but never does. Timothy Olyphant and Rose Byrne are wonderful characters from outside the family that feel more fleshed out than there smaller roles. In fact, the entire film feels like the pilot or finale of an extremely good television show.
And that's the highest compliment I think I can pay it is that I genuinely want to know and see more of ever single character in this movie. Is a sequel justified? Not in this case. Instead, it's a testament to a realistically written and depicted family drama with a generous helping of humor and entertainment. Highly recommended.
Aaron and I saw it in the theater and has a discussion afterward in the car: