The Edge of Seventeen – Movie Review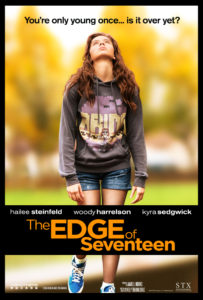 The Edge of Seventeen – R
Release Date: Fri 18 Nov 2016
Hailee Steinfeld stars as Nadine is this comedy/drama from writer/director Kelly Fremon Craig. Nadine's barely keeping things together, but when her best friend starts dating her popular older brother she finds herself feeling completely alone.
The Edge of Seventeen's trailers smartly focus on the comedy aspects of the film, particularly with Nadine's relationship with one of her teachers played by Woody Harrelson. The movie's comedy sets up the characters and the emotional core of the movie before much more serious (and occasionally dire) events occur. Craig's writing and directing were very effecting in placing me inside of Nadine's head. She's a character that makes believable choices that often lead to awkward or painful results. It's also a credit to the writing, directing and performances that characters in this movie can say mean things ironically without it sounding like a joke that came from a writer's room. When characters say something true it has weight.
This is an almost unqualified recommendation for me for the R-rated audience. There's a scene or two that may be uncomfortable to see with your parents or your children but it's a good enough movie to withstand that awkwardness and gain a better perspective of yourself. It's ultimately a movie about self-esteem that never feels saccharine. Highly recommended.
Amber, Aaron and I saw it in the theater and had a discussion in the car: