No Good Deed – Movie Review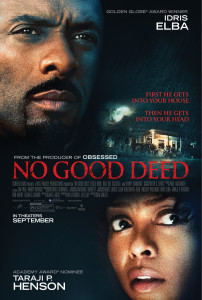 No Good Deed – PG-13
Release Date: Fri 12 Sep 2014
Taraji P. Henson plays Terri, wife and mother of two young children. Her husband is cold and distant and on the way out of town for the weekend. This leaves her alone with the kids when escaped convict Colin (Idris Elba) shows up at her door asking to borrow her phone.
These scenes and many others of Terri being terrorized by Colin in the trailer make this out to be a home invasion movie. Unfortunately, that is the case for about 90% of the running time. I found myself feeling bored waiting for the shoe to drop where Terri realized just how dangerous Colin can be and then almost immediately being bored by the tired, endless string of each trying to out-think the other into getting the upper hand.
Yes, there is a very late twist (of sorts) to keep this from literally being "Idris Elba scares a woman for 90 minutes," but it still felt pretty empty and I can't say I enjoyed it much more than just the trailer itself. Not worth the time.
Cal, Aaron and I saw it in the theater and has a discussion afterward in the car: