Alexander and the Terrible, Horrible, No Good, Very Bad Day – Movie Review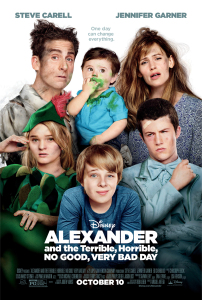 Alexander and the Terrible, Horrible, No Good, Very Bad Day – PG
Release Date: Fri 10 Oct 2014
Disney's film adaptation of Alexander and the Terrible, Horrible, No Good, Very Bad Day is designed to be a family comedy that everyone can enjoy. At a scant 82 minutes, even if you can't find anything to like it's over before very long. It seems rare lately that a movie like this doesn't overstay its welcome or feel the need to jam in a sad/emotional scene to provide some extra moral.
Instead, Alexander feels more like an extended episode of Modern Family with some extra time spent getting to know each of the characters. It also helps that the movie takes place in a single day (plus a bit of the day before), giving us just enough understanding of what an average day for these characters is like before it puts them through the ringer.
Alexander knows all about bad days – he seems to have them all the time. Just after midnight on his 12th birthday, he makes a wish that his family could understand what a bad day feels like. This sets in motion a completely packed day for the rest of his family as they try to survive and get to his birthday party. His father (Steve Carrell) is an out of work aeronautics engineer trying to land a job at a video game developer – while stuck with the family's baby, Trevor. His mother (Jennifer Garner) is trying to get a promotion from her boss (Megan Mullaly) as her new potty-training children's book is due to be published. His brother is trying to get his driver's license just in time to take his date to the junior prom, his sister is focused on her performance as Peter Pan and Alexander himself is trying to compete with another kid's birthday party and get the cute girl in his class to come over.
While we don't have more than a few sequences with the characters, they are well-acted and given just the right amount to do to illustrate Alexander's wisdom about bad days without it feeling like they're taking over the movie. The trailers focus on Steve Carrell, and while he is certainly funny in the movie he doesn't steal the show. It's an ensemble piece all the way and manages not to fall into too many of the cliches that would just drag it down. (For example, we don't have a parent who needs to learn to be less controlling.)
There were a few moments that seemed like they would fall flat – Steve Carrell taking the baby to a mother/baby (yoga?) class and being called a combination of the words father and mommy (fommy?) that turned out to be Trevor's first word. Carrell plays this with enthusiasm and since he's not embarrassed or irritated by this bizarre situation neither are we. Similarly, Jennifer Garner's character seems to be set up to fall into the "working mother overachiever who forgets her family" trope, but this never comes true. She's aware of her situation and everyone in the family is supportive of one another – while also having realistic friction.
John M. and I saw it in the theater and has a discussion afterward in the car: