Fury – Movie Review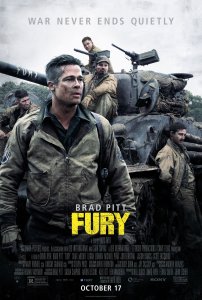 Fury – R
Release Date: Fri 17 Oct 2014
Fury has an uphill battle to differentiate itself from the vast list of World War II movies that have come before it. There are several points in its favor.
The cast is excellent, and the story and focused direction of David Ayer keep us right next to the five-men tank squad. Brad Pitt is the beleaguered, scarred leader. Shia LeBouf plays a truly fascinating character – who quotes biblical verses and weeps openly while still doing his best to keep everyone alive and shoot anything that moves. Michael Pena and Jon Bernthal vacillate between being endearing and obnoxious. While they all have moments that seem like stereotypical characterization, they all get enough screen time to show us that there's more. Sometimes coping with horror means cracking a joke, and sometimes it means being a drunken asshole.
Thrown into this mix is Logan Lerman's Norman, a typist outrageously out of his depth as a replacement for one of the tank crew that is dead as the film begins. At first he is pushed through a trial by fire, but eventually finds the balance between humanity and survival as he comes to understand how the horror he is experiencing is but of fraction of what the rest of the crew, years into the European theater have had to endure.
The cinematography and practical effects are gorgeously done. While it looks as good as Saving Private Ryan, it's lesser in scope as a story. That is a favorable thing, as we aren't sure what is around every corner or what the goal of the movie is. Instead, the tension builds up in new and interesting ways. There are small-scale, terrifying tank battles. There is an extremely tense scene that manages to settle and then become even worse, all while developing Lerman and Pitt's characters.
It's an extremely well made, well told and well acted war movie. At 131 minutes, it actually seemed to end abruptly but this too seems like a good choice versus giving us some patronizing epilogue about the end of the war. If you can handle the violence it's well worth a watch.
Aaron, Cal and I saw it in the theater and had a discussion afterward in the car: