The Boxtrolls – Movie Review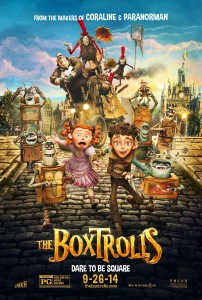 The Boxtrolls – PG
Release Date: Fri 26 Sep 2014
The Boxtrolls is a beautifully rendered but deeply flawed experience. The ambitious art design melding gorgeous stop-motion and occasional CGI always looks beautiful – or disgusting as the script calls for it. Unfortunately, those visuals serve a story devoid of humor, emotion, tension or a single surprise. In fact, if you've seen the trailer for The Boxtrolls you can likely anticipate the story beat for beat.
What you can't anticipate is just how bland it is. The experience reminded me a lot of seeing James and the Giant Peach, which was pitched as being made by the creative team behind A Nightmare Before Christmas. Both movies look great, but James was poorly adapted and directed and can get pretty boring. It's songs were mainly forgettable. Here, we have only a couple of songs sung by the villainous Snatcher (Ben Kingsley) and as welcome as they are they feel very phoned in.
Additional big name voices are wasted including Toni Collette, Tracy Morgan, Simon Pegg and Nick Frost with Richard Ayoade getting the most consistent jokes. Sadly, I enjoyed Ayoade's lines because I pictured him delivering them in person rather than his onscreen counterpart. The animated face doesn't do justice to any of the performances here apart from the oddly focal villain who is followed almost so closely he feels like the central character.
The order the story is told is also very odd. The plot twists aren't just predictable because we've seen this plot countless times, but because they are telegraphed seemingly forever before anything comes of them. Is anyone surprised that the boy living with the boxtrolls had parents? The movie thinks this should surprise us and doesn't reveal how he ended up being raised as a boxtroll. The boxtrolls themselves have very little personality or emotion. They speak a language that only the boy (Eggs, the name on his box) can understand and translate.
The importance of cheese in the plot makes the unflattering comparison to Wallace and Gromit inevitable. Again, the kind-spirited humor and sight gags of that series are completely missing here. The closest the movie comes to getting a reaction is its tendency toward gross-out humor that may get a laugh or two from kids in the right mood, but is otherwise pretty uncomfortable. The studio's previous efforts, Coraline and ParaNorman were much better films. The Boxtrolls makes some technical leaps that are impressive to look at, but the story is hard to sit through even once.
John M. and I saw it in the theater and has a discussion afterward in the car: