Big Hero 6 – Movie Review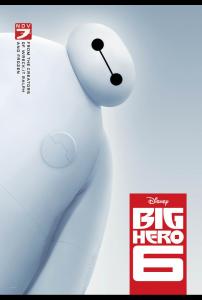 Big Hero 6 – PG
Release Date: Fri 07 Nov 2014
Big Hero 6 arrives a few weeks early for Thanksgiving and feels like the kind of family movie that viewers of every age will enjoy. It's well animated with a focus on the characters and story. There are a few standout scenes with stunning visuals, including a cotton-candy-esque dimension that shows up near the climax.
The story follows Hiro, a boy who finds a medical aid robot named Baymax built by his older brother. He begins teaching the robot new things, eventually trying to solve a mystery or two and create the eponymous super hero squad along the way.
As someone who endured Planes: Fire and Rescue this year, it was great to see an original Disney animated movie that wasn't painful to sit through. There's no list of celebrity voice overs or ridiculous innuendo to fly over kids heads and just embarrass parents.
Several clips from the trailers are oddly missing from the film, but it's probably for the best. The movie sprints along at a great pace while always taking the time to let Baymax do something funny. Both Hiro and Baymax work as characters that you understand and want to see succeed. It doesn't have the emotional punch of something like "Up" or the "go see this now" rubber stamp of "The Lego Movie," but it's a solid experience that will entertain everyone and offend no one.
Hannah, John M. and I saw it in the theater and had a discussion afterward in the car: