Still Alice – Movie Review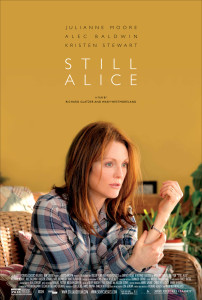 Still Alice – PG-13
Release Date: Fri 13 Feb 2015
Still Alice is adapted from Lisa Genova's novel and stars Julianne Moore as Alice, a linguistics professor who begins to forget words. As her symptoms worsen, she is diagnosed with a rare form of Alzheimer's and must try to find her way with her husband (Alec Baldwin) and three children. Her youngest, Lydia (Kristen Stewart) is the most physically distant and Alice tries to get her to agree to start college rather than continue to work as a struggling actress.
The direction, writing and performances are stellar. This is an amazing amount of story told in a tight 99-minute running time. Scenes flow from one into another as if it were later that day or maybe just the next day, and to Alice that also seems to be true. It is only through slips of conversation in the next scene do we learn that a month has passed. We have the benefit of our memory even as we follow the protagonist who does not.
The first act of the movie establishes Alice as an intellectual force who goes through denial and later takes some extreme measures to ensure that she does not deteriorate beyond a certain point. The second act is nearly psychological horror as we watch her helplessly lose many of her faculties and become unable to trust herself. The drama here is always brimming with heart, and while there are a few very strong scenes, including a speech she delivers only with the help of a highlighter none of it is brazen or just an excuse for the actors to show off. Every tear shed for this movie is earned, not manipulated.
Still Alice is an excellent movie and a universal recommendation from me. Find it and see it!
Amber, Aaron and I saw it in the theater and had a discussion in the car: