Focus – Movie Review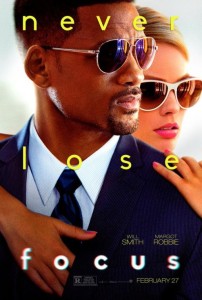 Focus – R
Release Date: Fri 27 Feb 2015
Focus tells the story of clever con man Nicky (Will Smith) teaching the eager Jess (Margot Robbie) how to be a better con artist. Things go wrong when she turns what she's learned against her former teacher.
The first twenty minutes of Focus are the best it has to offer. Smith is great as a suave con man, and Margot Robbie is equally great as Jess as they bond over getting better at pick-pocketing and begin to have some romantic chemistry.
Out of nowhere, this comes to an abrupt halt as Nicky abandons Jess at the end of the job. Essentially, he decides not to get too close and the movie then jumps ahead three years. This would be more forgivable if what followed picked up both characters toward their inevitable reunion, but it instead tells a weaker version of the same story all over again. He tries to win her back, she's a formidable con artist in her own right and we don't know who to trust – if anyone.
Focus ends up being sloppy and forgettable after a promising opening that seems like it was interrupted and replaced with a similar movie. Nicky is cool and fun in the part of the movie that is cool and fun by extension. When he's trying to win back the girl he abandoned out of nowhere, it loses something vital and never really recovers.
Aaron and I saw it in the theater and had a discussion in the car: