Run All Night – Movie Review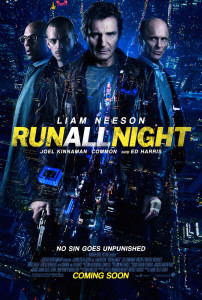 Run All Night – R
Release Date: Fri 13 Mar 2015
A washed up former hitman named Jimmy (Liam Neeson) is called upon by his old friend and boss Shawn (Ed Harris) to convince his son Mike (Joel Kinnaman) not to tell the police about a crime committed by Shawn's son. But when the son shows up to kill Mike, Jimmy kills Shawn's son and has to work to protect Mike and himself from Shawn's revenge.
Run All Night's premise and trailer could easily work as an excuse for a stylish action movie. While the movie does have plenty of great action sequences, the plot doesn't stop once the premise has been put into motion. Twists and turns shift alliances on a dime, and we end up finding out more about Jimmy's life, his friendship with Shawn and his relationship with his estranged son Mike.
Liam Neeson, while playing a similar character to many of his action roles is great as a drunken mess that slowly gets it together enough to help his son. His scenes with Ed Harris are fantastic, and Joel Kinnaman also turns in a great performance. In addition to Neeson, the film also shares a director with last year's Nonstop, which I also enjoyed for its thriller aspects and many plot turns.
Those looking for a straight ahead action film may become bored toward the end as things slow down to let the plot threads coalesce, but if you enjoy a good crime drama punctuated by well made action scenes and acting than Run All Night is well worth your time.
Aaron, Cal and I saw it in the theater and had a discussion in the car: